Susan Flanagan Fine Art "Painting Memories"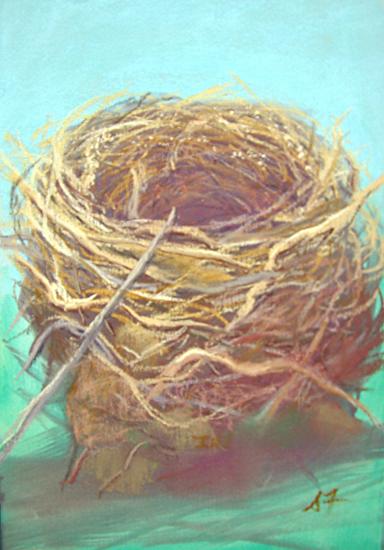 This is the 141st daily painting of 2015, "N is for Nest" a 7 x 5 in. pastel on paper. This is the 14th painting in an alphabet series.
To see all of the daily paintings or to buy, go to the Daily Painting gallery under "Works." Have a chance to win one of these paintings by joining my newsletter list! At the end of the month a person will be randomly chosen from my newsletter list and that person can pick from that month's daily paintings. Most of my daily paintings cost $75 and can be purchased through Pay Pal.
I am posting my daily painting on my home page, in the daily painting gallery under "works" and on my weekly blog. So check in daily. Please forward my newsletter to your interested friends.
April's daily painting winner is Karin Fediw and she chose "Listening to Chorus Frogs and Peepers." This is what she said about her choice.
"The painting I decided on was a pastel. It's of a swamp, with patches of water. I found myself staring at the water, trying to see into the water, and realized there is a lot to look at in this painting. The greens are very lively and lush, the water mesmerizing. (I am actually starting a workshop this evening on painting GREEN, so I can appreciate the pleasing colour you created here!) This is the painting I would like to add to my collection."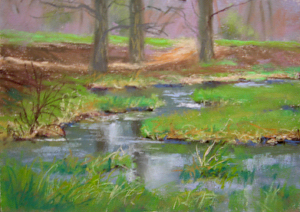 Images of Sue Flanagan Painting